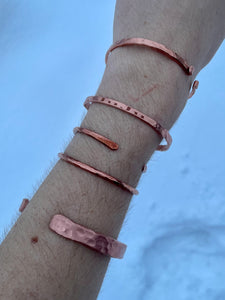 Vermont Copper Inc. Jewelry Engraving Services
***Add the jewelry engraving services to your cart along with the Vermont Copper item you would like engraved.***
Laser Engraving Services- specifically for our copper jewelry! 
Whether you'd like a personalized gift for yourself or another person we can engrave names, sayings, and logos onto bracelets and earrings. 
Please email detailed engraving info to vermontcopperinc@gmail.com.
Please note if an item comes to us that will take additional time to create a data file we will let you know of the additional cost if needed. Also please allow additional time for this of 1-2 weeks.
If you pick the hand stamped option, please note you are limited in characters and quantity. 
Tell us your design idea and we'll make it happen!